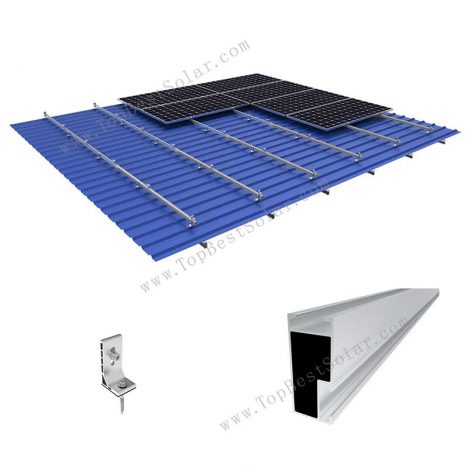 solar roof mounting system with L foot brackets
Model:SPC-RF-IK08-DT
Installation Site: Metal Roofing
Material:  6005-T5 Alum,SUS304,
Tilt Angle: 0° to 60°
PV Module: Framed, Frameless
PV Orientation: Portrait, Landscape
Wind Load: 60 m/s
Snow Load: 1.4 KN/M2
Contact by Email
Product Description:
Solar roof mounting with L foot brackets are wildly used in solar roof mounting, suitable for most type of corrugated metal roofs, installation angles are available from 10 degrees to 60 degrees.
Aluminum and stainless steel material, ensure high durable component, provide a sturdy and easy-to-mount choice for tin roofing.
The L feet are very easy to be mounted on the tin roof by using our wood screws, EPDM washer can prevent rain leaking and protect the rooftop from rust.Solar roof mounting system with L foot brackets are designed to maximize the horizontal installation flexibly, and support the rails sturdily on the roof.
Solar L foot mounting brackets for tin roof are easy to install, reliable at reduced installation time and cost for PV roof mounting.
Parts and components for solar roof mounting with L foot brackets:
-L feet backets;
-Wood screws;
-Aluminum rails;
-Rail splice;
-Mid/end clamps
-EPDM rubber pads
Installation steps of solar roof mounting system with L foot brackets:
Fasten L feet onto the metal roof with wood screw ;
Connect the rail to the L feet by bolts and nuts;
Fix the solar panels on the rails by our mid/end clamps.
Features of this solar roof mounting with L foot brackets:
Easy and fast to install;
Wildly be use in  commercial and residential metal rooftop;
Use EPDM washer provide maximum waterproofing;
Light material,anodized, long life span.
In order to meet the needs of different demand, we provide L feet kit with different measurement, length, slot size, width,available for customized. Welcome to consulate and purchase from us, our website is: www.TopBestSolar.com.
Brief Descriptions:
Solar Mounting System –solar roof mounting with L foot brackets
Item type:
Solar Panel Roof Mounting kits
Type:
SPC-RF-IK08-DT
Installation Site:
Metal Roof
Profile Material:
Aluminum  Alloy
Fasten Parts
Stainless Steel
PV Modules:
Frameless or Framed panel
Wind Load:
60m/s
Snow Load:
1.4KN/M2
Standards:
AS/NZS 1170
DIN 1055
GB50009-2012
IBC2009
TUV
JIS C 8955: 2011
International   Building Code IBC 2009
California   Building Code CBC 2010
Warranty
10 years
Designed Lifespan
25 years
Packing Details:
Inner:
Bubble bag + inner box + Carton
Outer:
Wooden Box, Steel Pallet, MDF, etc
Product Description:

Solar roof mounting with L foot brackets are wildly used in solar roof mounting, suitable for most type of corrugated metal roofs, installation angles are available from 10 degrees to 60 degrees.

Aluminum and stainless steel material, ensure high durable component, provide a sturdy and easy-to-mount choice for tin roofing.

The L feet are very easy to be mounted on the tin roof by using our wood screws, EPDM washer can prevent rain leaking and protect the rooftop from rust.Solar roof mounting system with L foot brackets are designed to maximize the horizontal installation flexibly, and support the rails sturdily on the roof.

Solar L foot mounting brackets for tin roof are easy to install, reliable at reduced installation time and cost for PV roof mounting.

Parts and components for solar roof mounting with L foot brackets:

-L feet backets;

-Wood screws;

-Aluminum rails;

-Rail splice;

-Mid/end clamps

-EPDM rubber pads

 

Installation steps of solar roof mounting system with L foot brackets:

Fasten L feet onto the metal roof with wood screw ;
Connect the rail to the L feet by bolts and nuts;
Fix the solar panels on the rails by our mid/end clamps.

Features of this solar roof mounting with L foot brackets:

Easy and fast to install;
Wildly be use in  commercial and residential metal rooftop;
Use EPDM washer provide maximum waterproofing;
Light material,anodized, long life span.

In order to meet the needs of different demand, we provide L feet kit with different measurement, length, slot size, width,available for customized. Welcome to consulate and purchase from us, our website is: www.TopBestSolar.com.

Brief Descriptions:
Solar Mounting System –solar roof mounting with L foot brackets
Item type:
Solar Panel Roof Mounting kits
Type:
SPC-RF-IK08-DT
Installation Site:
Metal Roof
Profile Material:
Aluminum  Alloy
Fasten Parts
Stainless Steel
PV Modules:
Frameless or Framed panel
Wind Load:
60m/s
Snow Load:
1.4KN/M2
Standards:
AS/NZS 1170
DIN 1055
GB50009-2012
IBC2009
TUV
JIS C 8955: 2011
International   Building Code IBC 2009
California   Building Code CBC 2010
Warranty
10 years
Designed Lifespan
25 years
Packing Details:
Inner:
Bubble bag + inner box + Carton
Outer:
Wooden Box, Steel Pallet, MDF, etc