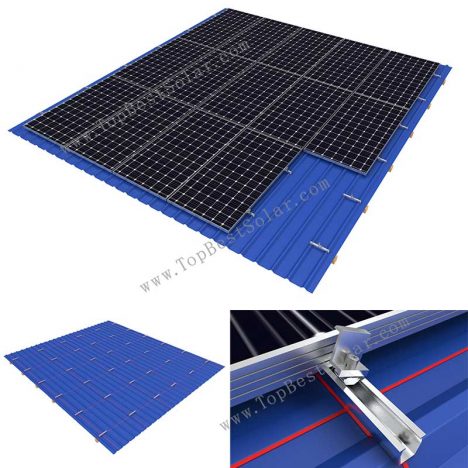 Solar metal roof rack mini U rail
Model: SPC-RF-CK01-RL
Installation Site: Metal Roofing
Material:6005-T5 Alum
Tilt Angle: 0° to 45°
PV Module: Framed, Frameless
PV Orientation: Portrait, Landscape
Wind Load: 60 m/s
Snow Load: 1.4 KN/M2
Contact by Email
Product Description:
This solar metal roof racking U rail is applicable to commercial,industrial and residential metal roof, working with the (EPDM) waterproof gasket can avoid leaking after the metal roof is breakdown,applicable design and excellent strength calculate make the installing easily.
The solar metal roof racking U rail is suitable for both framed or frameless solar module. It's easy to install with simple structure,strong and durable features.
Solar metal roof racks railless, using Mini U rail SPC-CK-01 fixed on the metal roofing directly to attached the panel and secured by our mid and end clamps, less components were needed, save material cost and installation time. It can be mounted by landscape or portrait on the roof and compatible to different type of PV modules.
Features:
1.Applicable for different Trapezoidal metal roof,with its professional design,it realize the prefect connection between clamp and roof
2.Save the installation cost and time ,professional design and systematic solution can reduce the difficulty and time, easy to install, lowing the cost .
3,Self-developed clamp can match all kinds of standard of Solar module ,the roof structure can be 25 year's lifetime.
4,Professional design can satisfy tiled parts and some angle require,the systematic layout can according to real situation adjusting, it can satisfy landscape and portrait
TopBestSolar devoted to solar metal roof racking system for more than 10 years, we provide various solutions for different metal roof types. Welcome to visit our website: www.TopBestSolar.com to learn more of your solar racks.
Brief Descriptions:
Solar Mounting System –Solar metal roof racking U rail
Item type:
Solar Roof mounts
Type:
Solar metal roof rack
Installation Site:
Commercial ,Industrial&Residential metal rooftop
Profile Material:
AL6005-T5
Fasten Parts
Stainless Steel / Aluminum T Sliding Nut
Color:
Nature/Customized
PV Modules:
Framed,Frameless
Wind Load:
60m/s
Snow Load:
1.4KN/M2
Modules Orientation:
Landscape/Portrait
Standards:
AS/NZS 1170
DIN 1055
GB50009-2012
IBC2009
TUV
JIS C 8955: 2011
International   Building Code IBC 2009
California   Building Code CBC 2010
Warranty
10 years
Designed Lifespan
25 years
Packing Details:
Inner:
Bubble bag + inner box + Carton
Outer:
Wooden Box, Steel Pallet, MDF, etc
Product Description:

This solar metal roof racking U rail is applicable to commercial,industrial and residential metal roof, working with the (EPDM) waterproof gasket can avoid leaking after the metal roof is breakdown,applicable design and excellent strength calculate make the installing easily.

The solar metal roof racking U rail is suitable for both framed or frameless solar module. It's easy to install with simple structure,strong and durable features.

Solar metal roof racks railless, using Mini U rail SPC-CK-01 fixed on the metal roofing directly to attached the panel and secured by our mid and end clamps, less components were needed, save material cost and installation time. It can be mounted by landscape or portrait on the roof and compatible to different type of PV modules.

Features:

1.Applicable for different Trapezoidal metal roof,with its professional design,it realize the prefect connection between clamp and roof

2.Save the installation cost and time ,professional design and systematic solution can reduce the difficulty and time, easy to install, lowing the cost .

3,Self-developed clamp can match all kinds of standard of Solar module ,the roof structure can be 25 year's lifetime.

4,Professional design can satisfy tiled parts and some angle require,the systematic layout can according to real situation adjusting, it can satisfy landscape and portrait

TopBestSolar devoted to solar metal roof racking system for more than 10 years, we provide various solutions for different metal roof types. Welcome to visit our website: www.TopBestSolar.com to learn more of your solar racks.

Brief Descriptions:
Solar Mounting System –Solar metal roof racking U rail
Item type:
Solar Roof mounts
Type:
Solar metal roof rack
Installation Site:
Commercial ,Industrial&Residential metal rooftop
Profile Material:
AL6005-T5
Fasten Parts
Stainless Steel / Aluminum T Sliding Nut
Color:
Nature/Customized
PV Modules:
Framed,Frameless
Wind Load:
60m/s
Snow Load:
1.4KN/M2
Modules Orientation:
Landscape/Portrait
Standards:
AS/NZS 1170
DIN 1055
GB50009-2012
IBC2009
TUV
JIS C 8955: 2011
International   Building Code IBC 2009
California   Building Code CBC 2010
Warranty
10 years
Designed Lifespan
25 years
Packing Details:
Inner:
Bubble bag + inner box + Carton
Outer:
Wooden Box, Steel Pallet, MDF, etc