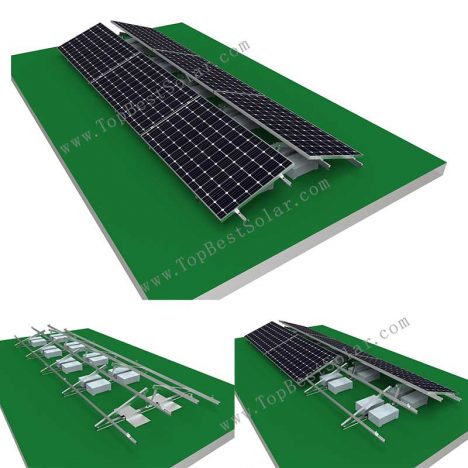 Solar panel ballasted racking east west
Model: east west
Installation Site: Flat Roofing
Material:  6005-T5 Alum
Tilt Angle: 0° to 20°
PV Module: Framed, Frameless
PV Orientation: Portrait, Landscape
Wind Load: 60 m/s
Snow Load: 1.4 KN/M2
Contact by Email
Product Description:
The solar ballasted racking east west is an ideal solution for flat roof solar mounting. It is simple and easy installation,few tools are required. Use ballasted solution,without any requirement of penetrations, thus,it protects the roofing effectively,and avoid water leakage caused by drilling. Anodized aluminum structure, light weight,strong strength and durable.
This structure of solar panel ballasted racking east west can fit for both framed and unframed solar panels.The solar panels are mounted on east-west side, it ensure the panels can face the sunlight in any direction, available for any orientation installation.
Solar PV ballasted racking east west with the double-sided design for the solar panels mounting in shoulder to shoulder,maximize the use of mounting space,Thus maximize the generation capacity.
Features of solar ballasted racking east west:
AL6005-T5 structure,light-weight and long life service;
Minimize space limited of rooftop;
Simple and easy installation;
Cost-effective solution,optimize purchase costs;
High wind speed resistance
Components List of this East-west mounting racks:
Pre-assembled east-west brackets
Alu rails
Rail clamps
Rail splice
Mid and end clamps
Highly pre-assembled of the structure used with ballasted plate, make the solar flat roof mounting more easy and fast.For more other solar roof mounting solutions,welcome contact us anytime.
Solar roof mounting racks manufacture factory, professional design team always provide you the most ideal solar mounting solution.Welcome inquiry from us with your any solar mounting project, our website: www.TopBestSolar.com
Brief Descriptions:
Solar Mounting System – Ballasted racking for solar panel East-West
Item type:
Solar Flat Roof mounts
Type:
 East-West ballasted mount
Installation Site:
Flat Rooftop, rocky ground
Profile Material:
AL6005-T5
Fasten Parts
Stainless Steel / Aluminum T Sliding Nut
Color:
Nature/Customized
PV Modules:
Framed,Frameless
Wind Load:
60m/s
Snow Load:
1.4KN/M2
Modules Orientation:
Landscape/Portrait
Standards:
AS/NZS 1170
DIN 1055
GB50009-2012
IBC2009
TUV
JIS C 8955: 2011
International   Building Code IBC 2009
California   Building Code CBC 2010
Warranty
10 years
Designed Lifespan
25 years
Packing Details:
Inner:
Bubble bag + inner box + Carton
Outer:
Wooden Box, Steel Pallet, MDF, etc
Product Description:

The solar ballasted racking east west is an ideal solution for flat roof solar mounting. It is simple and easy installation,few tools are required. Use ballasted solution,without any requirement of penetrations, thus,it protects the roofing effectively,and avoid water leakage caused by drilling. Anodized aluminum structure, light weight,strong strength and durable.

This structure of solar panel ballasted racking east west can fit for both framed and unframed solar panels.The solar panels are mounted on east-west side, it ensure the panels can face the sunlight in any direction, available for any orientation installation.

Solar PV ballasted racking east west with the double-sided design for the solar panels mounting in shoulder to shoulder,maximize the use of mounting space,Thus maximize the generation capacity.

Features of solar ballasted racking east west:

AL6005-T5 structure,light-weight and long life service;
Minimize space limited of rooftop;
Simple and easy installation;
Cost-effective solution,optimize purchase costs;
High wind speed resistance

Components List of this East-west mounting racks:

Pre-assembled east-west brackets
Alu rails
Rail clamps
Rail splice
Mid and end clamps

Highly pre-assembled of the structure used with ballasted plate, make the solar flat roof mounting more easy and fast.For more other solar roof mounting solutions,welcome contact us anytime.

Solar roof mounting racks manufacture factory, professional design team always provide you the most ideal solar mounting solution.Welcome inquiry from us with your any solar mounting project, our website: www.TopBestSolar.com

Brief Descriptions:
Solar Mounting System – Ballasted racking for solar panel East-West
Item type:
Solar Flat Roof mounts
Type:
 East-West ballasted mount
Installation Site:
Flat Rooftop, rocky ground
Profile Material:
AL6005-T5
Fasten Parts
Stainless Steel / Aluminum T Sliding Nut
Color:
Nature/Customized
PV Modules:
Framed,Frameless
Wind Load:
60m/s
Snow Load:
1.4KN/M2
Modules Orientation:
Landscape/Portrait
Standards:
AS/NZS 1170
DIN 1055
GB50009-2012
IBC2009
TUV
JIS C 8955: 2011
International   Building Code IBC 2009
California   Building Code CBC 2010
Warranty
10 years
Designed Lifespan
25 years
Packing Details:
Inner:
Bubble bag + inner box + Carton
Outer:
Wooden Box, Steel Pallet, MDF, etc