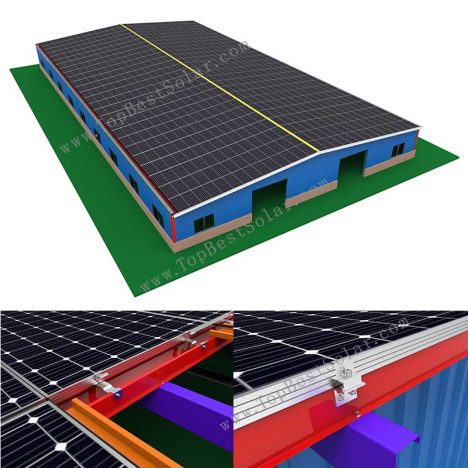 BIPV Solar Mounting System
Model: SPC-BIPV-MR
Installation Site: Rooftop,Carport
Material:Carbon Steel/ZM275
Tilt Angle: 0° to 45°
PV Module: Framed, Frameless
PV Orientation: Portrait, Landscape
Wind Load: 60 m/s
Snow Load: 1.4 KN/M2
Contact by Email
Product Description:
BIPV solar mounting waterproof structure is an application that integrates solar power generation into the building, realizing the perfect combination of photovoltaic power generation and building. Photovoltaic materials are used to replace traditional building materials, installed on the wall of the lateral, roof, etc., make the building itself into a power source.
The BIPV solar mounting system can not only meet the conventional defense construction  leakage, shrinkage and so on the various design requirements, also has high wind speed and snow load resistance, good ventilation, daylighting, strong heat insulation fire prevention, waterproof, easy operation and maintenance advantages.
The main material of BIPV roof mounting structure is SurperDyma which is a new popular material with more strength and higher corrosion resistance than HDG steel and anodized aluminum, longer life service.
This BIPV system is mostly applicable to new industrial metal roof or the existing industrial tin roof which need to be replace the rooftop, also wildly used for commercial and residential roof solar mounting, and solar carport system etc.
Features of BIPV solar mounting waterproof structure:
New waterproof structure,waterproofing system equip with drainage channel, can prevent leakage effectively, timely discharge of rainwater, lower maintenance cost and longer lifespan.
Easy to install, andstrengthen of the overall structure, unnecessary cutting and welding on site
Save the cost of roof laying and renovation, greatly reduce the construction cost, prolong the service life of roof more than 25 years.
Can effectively reduce the indoor temperature, the system can be adjusted the layout according to the actual situation of the building, good light transmittance, effectively improve the indoor brightness, enhance lighting, make the appearance of the building elegent.
Main Components list for this BIPV solar mounting system:
Longitudinal Grider;
Ceiling Cover;
Mid Clamp Kit;
End Clamp Kit
Lateral Water Tank
Gland Strip
Solar BIPV mounting system manufacture factory direct, professional sale and design team provide you solar mounting system one stop service.Welcome inquiry from us with your any solar mounting project, our website: www.TopBestSolar.com
Product Description:

BIPV solar mounting waterproof structure is an application that integrates solar power generation into the building, realizing the perfect combination of photovoltaic power generation and building. Photovoltaic materials are used to replace traditional building materials, installed on the wall of the lateral, roof, etc., make the building itself into a power source.

The BIPV solar mounting system can not only meet the conventional defense construction  leakage, shrinkage and so on the various design requirements, also has high wind speed and snow load resistance, good ventilation, daylighting, strong heat insulation fire prevention, waterproof, easy operation and maintenance advantages.

The main material of BIPV roof mounting structure is SurperDyma which is a new popular material with more strength and higher corrosion resistance than HDG steel and anodized aluminum, longer life service.

This BIPV system is mostly applicable to new industrial metal roof or the existing industrial tin roof which need to be replace the rooftop, also wildly used for commercial and residential roof solar mounting, and solar carport system etc.

Features of BIPV solar mounting waterproof structure:

New waterproof structure,waterproofing system equip with drainage channel, can prevent leakage effectively, timely discharge of rainwater, lower maintenance cost and longer lifespan.
Easy to install, andstrengthen of the overall structure, unnecessary cutting and welding on site
Save the cost of roof laying and renovation, greatly reduce the construction cost, prolong the service life of roof more than 25 years.
Can effectively reduce the indoor temperature, the system can be adjusted the layout according to the actual situation of the building, good light transmittance, effectively improve the indoor brightness, enhance lighting, make the appearance of the building elegent.

Main Components list for this BIPV solar mounting system:

Longitudinal Grider;
Ceiling Cover;
Mid Clamp Kit;
End Clamp Kit
Lateral Water Tank
Gland Strip

Solar BIPV mounting system manufacture factory direct, professional sale and design team provide you solar mounting system one stop service.Welcome inquiry from us with your any solar mounting project, our website: www.TopBestSolar.com