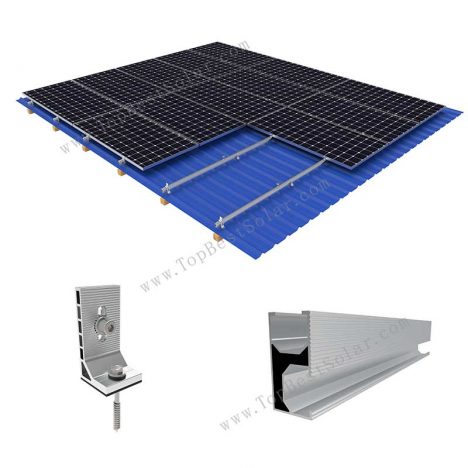 solar roof mount with L foot ,good quality
Model: SPC-RF-CK08-F-W680
Installation Site:Solar Metal roofing mounting system
Material: 6005-T5 Alum
Tilt Angle:
PV Module: Framed, Frameless
PV Orientation: Portrait, Landscape
Wind Load: 60 m/s
Snow Load: 1.4 KN/M2
Contact by Email
Product Description:
There are multiple options when mounting solar on a metal roof, the details of which can impact installation costs and lifetime performance. Metal roof mounting consists of two basic parts : the roof mounting hardware and the actual solar panel attachment interface. Solar roof mount with L foot, whose components are consisted of high quality aluminum and stainless steel provides a excellent solution for the metal roof. It doesn't need so many components to construct the system of solar roof mount with L foot. Using the L feet that fastened with wood screw to connect the rails and the metal roof is the important key for the whole system. It is more beneficial to use the EPDM washer to protect from water seepage. The installation for metal roof solar mounting with L feet brackets is very simple.
The installation instructions are below:
Make the marks on the metal roof to fasten the L feet;
Fasten the L feet in the corresponding points with wood screws;
Connect the rails withnuts to the L feet(the rails are connected with rails splice already);
Install the solar modules and fastened with mid and end clamps.
Features of solar roof mount with L foot :
Easy and fast installation steps;
Wood screws for L feet for quick mounting;
Anodized surface treatment, high quality and long lifespan;
Widely application for commercial and industrial;
Have a good performance for waterproof;
Don't need too many components.
If you're interested in solar mounting system, we'd love to discuss with you about more and answer any questions you might have. As a professional manufacturer of PV mounting system, SPC is a great option for you.
Contact with us and we will reply to you immediately.
www.TopBestSolar.com
Brief Descriptions:
Solar mounting system- Solar roof mount with L foot
Item type:
Solar mounting system
Type:
SPC-RF-CK08-F-W680
Installation Site:
Solar roofing mounting system
Profile Material:
Stainless steel 304, Aluminum
Color:
Silvery or according to customer's requirements
PV Modules:
Framed or frameless
Module Orientation:
Portrait and Landscape
Standards:
AS/NZS 1170
DIN 1055
GB50009-2012
IBC2009
TUV
JIS C 8955: 2011
International   Building Code IBC 2009
California   Building Code CBC 2010
Warranty
10 years
Designed Lifespan
25 years
Packing Details:
Inner:
Bubble bag +inner box +Carton
Outer:
Wooden Box, Steel Pallet, MDF, etc
Product Description:

There are multiple options when mounting solar on a metal roof, the details of which can impact installation costs and lifetime performance. Metal roof mounting consists of two basic parts : the roof mounting hardware and the actual solar panel attachment interface. Solar roof mount with L foot, whose components are consisted of high quality aluminum and stainless steel provides a excellent solution for the metal roof. It doesn't need so many components to construct the system of solar roof mount with L foot. Using the L feet that fastened with wood screw to connect the rails and the metal roof is the important key for the whole system. It is more beneficial to use the EPDM washer to protect from water seepage. The installation for metal roof solar mounting with L feet brackets is very simple.

The installation instructions are below:

Make the marks on the metal roof to fasten the L feet;
Fasten the L feet in the corresponding points with wood screws;
Connect the rails withnuts to the L feet(the rails are connected with rails splice already);
Install the solar modules and fastened with mid and end clamps.

Features of solar roof mount with L foot :

Easy and fast installation steps;
Wood screws for L feet for quick mounting;
Anodized surface treatment, high quality and long lifespan;
Widely application for commercial and industrial;
Have a good performance for waterproof;
Don't need too many components.

If you're interested in solar mounting system, we'd love to discuss with you about more and answer any questions you might have. As a professional manufacturer of PV mounting system, SPC is a great option for you.

Contact with us and we will reply to you immediately.

www.TopBestSolar.com

Brief Descriptions:
Solar mounting system- Solar roof mount with L foot
Item type:
Solar mounting system
Type:
SPC-RF-CK08-F-W680
Installation Site:
Solar roofing mounting system
Profile Material:
Stainless steel 304, Aluminum
Color:
Silvery or according to customer's requirements
PV Modules:
Framed or frameless
Module Orientation:
Portrait and Landscape
Standards:
AS/NZS 1170
DIN 1055
GB50009-2012
IBC2009
TUV
JIS C 8955: 2011
International   Building Code IBC 2009
California   Building Code CBC 2010
Warranty
10 years
Designed Lifespan
25 years
Packing Details:
Inner:
Bubble bag +inner box +Carton
Outer:
Wooden Box, Steel Pallet, MDF, etc