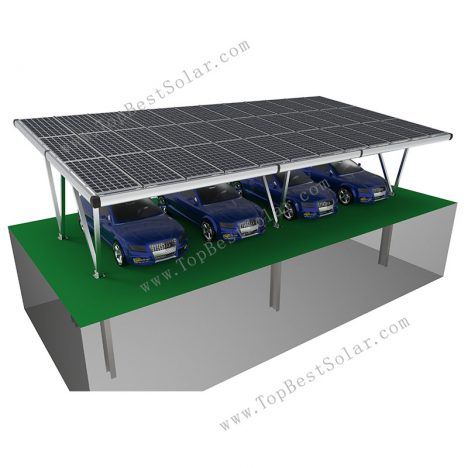 Solar Carport Mounts
Model: SPC-GPA-V3-RW
Installation Site: Open Ground
Material: Aluminum alloy, HDG steel;
Tilt Angle: 0° to 15°
PV Module: Framed
PV Orientation: Portrait, Landscape
Wind Load: 60 m/s
Snow Load: 1.4 KN/M2
Warranty: 15 Years
Contact by Email
Product Description:
SPC-GPA-V3-RW series solar carport mounting system is aluminum alloy in material.
They can be applied to diffrent scale cars base on carport project size, quantity and orientation.
Standard incliation for this carport structure is 5° ~ 15° which can let rain drop go down smoothly.
Advantages of this solar panel carport mounting system, SPC-GPA-V3-RW:
1) Pillar or concrete base available;
2) Robust strcture mounts;
3) Waterproof in rainy days;
4) EV charging kits compatible;
5) Good usage of pre-own or undeveloped grounds;
6) Easy for maintainance;
Our talented engineers have several carport solutions for different mounting types: single rows / double rows / up slope (Y shape) / long span / mono slope parking lots…
Welcome to choose our solar carport mounting system, our knowledgeable staff will assit all aspects from design, cost evaluation, installation of your car parkiting lots.
Solar carport mounting system waterproof components:
1, mid / end clamps;
2. W shape water channel;
3. West-East water channel;
4. Beam clip;
5. Square tube beam;
6. Beam joint;
7. Purline;
8. Aluninum base;
9. Pile;
10. Cover;
11. Edges;
Product Description:

SPC-GPA-V3-RW series solar carport mounting system is aluminum alloy in material.

They can be applied to diffrent scale cars base on carport project size, quantity and orientation.

Standard incliation for this carport structure is 5° ~ 15° which can let rain drop go down smoothly.

Advantages of this solar panel carport mounting system, SPC-GPA-V3-RW:

1) Pillar or concrete base available;

2) Robust strcture mounts;

3) Waterproof in rainy days;

4) EV charging kits compatible;

5) Good usage of pre-own or undeveloped grounds;

6) Easy for maintainance;

Our talented engineers have several carport solutions for different mounting types: single rows / double rows / up slope (Y shape) / long span / mono slope parking lots…

Welcome to choose our solar carport mounting system, our knowledgeable staff will assit all aspects from design, cost evaluation, installation of your car parkiting lots.

Solar carport mounting system waterproof components:

1, mid / end clamps;
2. W shape water channel;
3. West-East water channel;
4. Beam clip;
5. Square tube beam;
6. Beam joint;
7. Purline;
8. Aluninum base;
9. Pile;
10. Cover;
11. Edges;