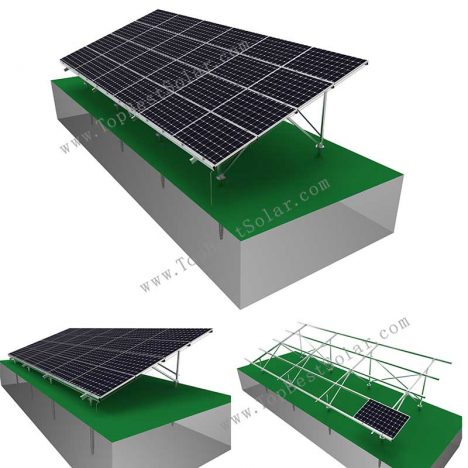 Solar ground Rack mount
Model: SPC-GM-AL
Installation Site: Ground
Material: 6005-T5 Alum
Tilt Angle: 0° to 60°
PV Module: Framed, Frameless
PV Orientation: Portrait, Landscape
Wind Load: 60 m/s
Snow Load: 1.4 KN/M2
Contact by Email
Product Description:
This Solar ground Rack is designed using aluminium alloy, giving it an aesthetic and elegant appearance;lightweight materials an a slot keel design make it easy to install, and lead to significant savings in terms of onsite installation costs. Anodizing surface ensures high anti-corrosive performance,it is high adjustable,thus flexible for use in various complex terrains.
Our Solar ground Rack mount allow the freedom to mount the PV modules in the optimum location for exposure to direct sunlight, with the reduction of installation labour and site work for residential,commercial and industrial solar systems.
The Solar ground Rack system is designed to speed the installation of large scale PV arrays on ground. Our engineer would provide different design solution to meet different location solar ground mounting requirement.The foundation type can be ground screw or cement foundation.
Features of this Solar ground Rack:
Highly pre-assembled ensuring easy installation and lower labor cost
Height and Angle can be adjusted in a certain range
Lightweight material, convenient for transportation and installation
The arrangement of the system can be adjusted according to the actual site situation, which can realize the vertical, east-west, south-west and south-north adjustment to maximize photovoltaic power generation and have good compatibility of components
Solar ground racks manufacture factory, our professional design team will provide ideal solution for different type of mounting system according to different local situation.For more details, please feel free contact us from our website: TopBestSolar.com
Brief Descriptions:
Solar Mounting System –Solar ground rack mounting system
Item type:
Solar ground mount
Type:
 Ground mount aluminum stucture
Installation Site:
Ground mount,Carport,Farmland
Profile Material:
Aluminum
Fasten Parts
Stainless Steel / Aluminum T Sliding Nut
Color:
Nature/Customized
PV Modules:
Framed,Frameless
Wind Load:
60m/s
Snow Load:
1.4KN/M2
Modules Orientation:
Landscape/Portrait
Standards:
AS/NZS 1170
DIN 1055
GB50009-2012
IBC2009
TUV
JIS C 8955: 2011
International   Building Code IBC 2009
California   Building Code CBC 2010
Warranty
10 years
Designed Lifespan
25 years
Packing Details:
Inner:
Bubble bag + inner box + Carton
Outer:
Wooden Box, Steel Pallet, MDF, etc
Product Description:

This Solar ground Rack is designed using aluminium alloy, giving it an aesthetic and elegant appearance;lightweight materials an a slot keel design make it easy to install, and lead to significant savings in terms of onsite installation costs. Anodizing surface ensures high anti-corrosive performance,it is high adjustable,thus flexible for use in various complex terrains.

Our Solar ground Rack mount allow the freedom to mount the PV modules in the optimum location for exposure to direct sunlight, with the reduction of installation labour and site work for residential,commercial and industrial solar systems.

The Solar ground Rack system is designed to speed the installation of large scale PV arrays on ground. Our engineer would provide different design solution to meet different location solar ground mounting requirement.The foundation type can be ground screw or cement foundation.

Features of this Solar ground Rack:

Highly pre-assembled ensuring easy installation and lower labor cost
Height and Angle can be adjusted in a certain range
Lightweight material, convenient for transportation and installation
The arrangement of the system can be adjusted according to the actual site situation, which can realize the vertical, east-west, south-west and south-north adjustment to maximize photovoltaic power generation and have good compatibility of components

Solar ground racks manufacture factory, our professional design team will provide ideal solution for different type of mounting system according to different local situation.For more details, please feel free contact us from our website: TopBestSolar.com

Brief Descriptions:
Solar Mounting System –Solar ground rack mounting system
Item type:
Solar ground mount
Type:
 Ground mount aluminum stucture
Installation Site:
Ground mount,Carport,Farmland
Profile Material:
Aluminum
Fasten Parts
Stainless Steel / Aluminum T Sliding Nut
Color:
Nature/Customized
PV Modules:
Framed,Frameless
Wind Load:
60m/s
Snow Load:
1.4KN/M2
Modules Orientation:
Landscape/Portrait
Standards:
AS/NZS 1170
DIN 1055
GB50009-2012
IBC2009
TUV
JIS C 8955: 2011
International   Building Code IBC 2009
California   Building Code CBC 2010
Warranty
10 years
Designed Lifespan
25 years
Packing Details:
Inner:
Bubble bag + inner box + Carton
Outer:
Wooden Box, Steel Pallet, MDF, etc