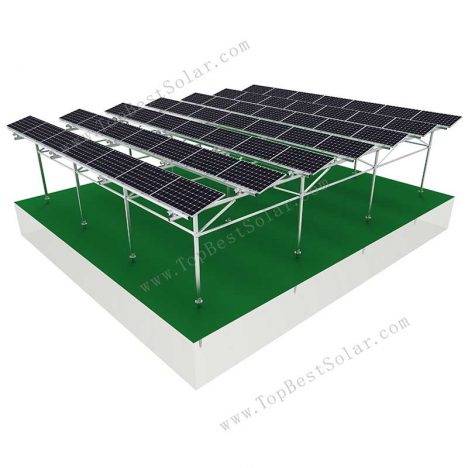 solar farm land
Model:SPC-CAG-GAG-H-V
Installation Site: Open Ground
Material: Aluminum alloy, stainless steel;
PV Module: Framed,Frameless
PV Orientation: Portrait, Landscape
Wind Load: 60 m/s
Snow Load: 1.4 KN/M2
Warranty: 15 Years
Contact by Email
Product Description:
Solar farmland is a method of generating electricity on farmland using solar panels mounted to a raised framework, with crops growing underneath. It can be hugely profitable for landowners, generating an additional revenue stream with minimal effort on their part. It is a large-scale solar PV project which generates energy and then sends that energy to the grid for distribution.
Our solar farm land is an optimal solution designed for farm land and agriculture to meet the illumination of crop growth, by utilizing farm spaces  to reach adequate growth of crops. Can be wildly used for both frame and non-frame PV modules installation.
All components of this solar farm are made of high-quality Aluminum and stainless steel, ground screw is HDG steel material, high anodized and anti-corrosion.
Parts and Components for Solar farmland:
– End clamp;
– Rail clamp;
– Splice;
– Rail;
– Angle adjustable bracket;
– Notch aluminum;
– Pre assembled support;
– Leg supporting;
– Ground screws;
– Hex bolts;
It is a perfect choice to set up PV modules on farm land, the panels will actually keep things more temperate for those crops by keeping things cooler during the day and warmer at night, which extends growing seasons, greatly increase economic benefit.
Features of this solar farmland:
Low-impact footings with relatively little long-term impact on the soil;
Generate no emissions, ever;
Satisfy the different light exposure requirements of varied plants
Add additional wealth to landowner;
Generate power for 25+ years with no moving parts.;
Intelligent temperature control, modern high-tech plant;
Can be pre-installed at factory.
High anti-corrosion
As a professional solar parts component factory, we carry a number of PV modules mounting system which are meet for different installation site.  Welcome to contact us from our website: www.TopBestSolar.com.
Brief Descriptions:
Solar Mounting systems –solar farmland mounts
Item type:
PV Modules Ground Mounts
Type:
SPC-CAG-GAG-H-V
Installation Site:
Farmland, Agriculture
Profile Material:
Aluminum Alloy
Fasten Parts:
Stainless Steel/ Aluminum T Sliding Nut
Color:
Anodized silvery
PV Modules:
Framed or frameless
Module Orientation:
Landscape and Portrait
Snow Load:
60m/s
Wind Load:
1.4KN/M2
Standards:
AS/NZS 1170
DIN 1055
GB50009-2012
IBC2009
TUV
JIS C 8955: 2011
International   Building Code IBC 2009
California   Building Code CBC 2010
Warranty
10 years
Designed Lifespan
25 years
Packing Details:
Inner:
Bubble bag + inner box + Carton
Outer:
Wooden Box, Steel Pallet, MDF, etc
Product Description:

Solar farmland is a method of generating electricity on farmland using solar panels mounted to a raised framework, with crops growing underneath. It can be hugely profitable for landowners, generating an additional revenue stream with minimal effort on their part. It is a large-scale solar PV project which generates energy and then sends that energy to the grid for distribution.

Our solar farm land is an optimal solution designed for farm land and agriculture to meet the illumination of crop growth, by utilizing farm spaces  to reach adequate growth of crops. Can be wildly used for both frame and non-frame PV modules installation.

All components of this solar farm are made of high-quality Aluminum and stainless steel, ground screw is HDG steel material, high anodized and anti-corrosion.

Parts and Components for Solar farmland:

– End clamp;
– Rail clamp;
– Splice;
– Rail;
– Angle adjustable bracket;
– Notch aluminum;
– Pre assembled support;
– Leg supporting;
– Ground screws;
– Hex bolts;

It is a perfect choice to set up PV modules on farm land, the panels will actually keep things more temperate for those crops by keeping things cooler during the day and warmer at night, which extends growing seasons, greatly increase economic benefit.

Features of this solar farmland:

Low-impact footings with relatively little long-term impact on the soil;
Generate no emissions, ever;
Satisfy the different light exposure requirements of varied plants
Add additional wealth to landowner;
Generate power for 25+ years with no moving parts.;
Intelligent temperature control, modern high-tech plant;
Can be pre-installed at factory.
High anti-corrosion

As a professional solar parts component factory, we carry a number of PV modules mounting system which are meet for different installation site.  Welcome to contact us from our website: www.TopBestSolar.com.

Brief Descriptions:
Solar Mounting systems –solar farmland mounts
Item type:
PV Modules Ground Mounts
Type:
SPC-CAG-GAG-H-V
Installation Site:
Farmland, Agriculture
Profile Material:
Aluminum Alloy
Fasten Parts:
Stainless Steel/ Aluminum T Sliding Nut
Color:
Anodized silvery
PV Modules:
Framed or frameless
Module Orientation:
Landscape and Portrait
Snow Load:
60m/s
Wind Load:
1.4KN/M2
Standards:
AS/NZS 1170
DIN 1055
GB50009-2012
IBC2009
TUV
JIS C 8955: 2011
International   Building Code IBC 2009
California   Building Code CBC 2010
Warranty
10 years
Designed Lifespan
25 years
Packing Details:
Inner:
Bubble bag + inner box + Carton
Outer:
Wooden Box, Steel Pallet, MDF, etc