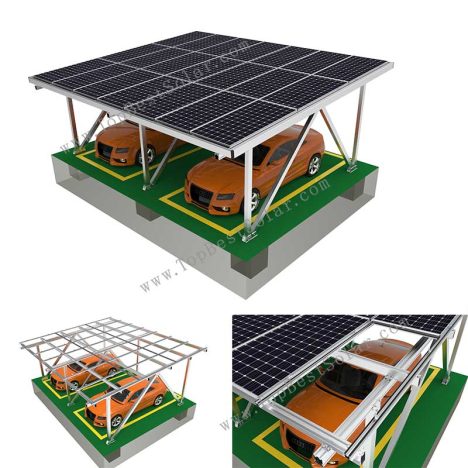 Carport Solar Structure
Model:SPC-GPA-V3-W
Installation Site: Carport
Material: 6005-T5 Alum
Tilt Angle: 0° to 60°
PV Module: Framed, Frameless
PV Orientation: Portrait, Landscape
Wind Load: 60 m/s
Snow Load: 1.4 KN/M2
Contact by Email
Product Description:
Carport solar become more and more popular in the field of renewable energy in the recent years .Many people have already used carport solar products as part of a utility and commercial scale project.
The carport solar structure takes full advantage of the parking place for the purpose of generation while providing shaded for the cars below.Our designs are for easy and fast installation,also with an effective solution for any residential and commercial installation.
Our carport solar racking use high strength aluminum extrusions, anodized surface treatment, high corrosion resistance and easy transportation. Further more,they are durable with long projected lifetime.
The structure of carport solar mount is pre engineered and pre designed to meet different mounting conditions.
Features of this carport solar:
Effectively use the space while generating electricity;
High strength and durable;
Provide economic and heat isolation for car parks;
Good quality and reasonable price;
Extremely low-maintenance.
Installing a reliable solar carport or shade structure is an important investment.We are a professional carport solar mounting system factory with more than 12 years experience. our experienced work team support all detail of this carport system,structure analysis, drawings…. and also will offer full service for your solar carport installation.
For more details, to request a consultation with a specialist, or to get a quote, please feel free to visit our company website:www.TopBestSolar.com
Product Description:

Carport solar become more and more popular in the field of renewable energy in the recent years .Many people have already used carport solar products as part of a utility and commercial scale project.

The carport solar structure takes full advantage of the parking place for the purpose of generation while providing shaded for the cars below.Our designs are for easy and fast installation,also with an effective solution for any residential and commercial installation.

Our carport solar racking use high strength aluminum extrusions, anodized surface treatment, high corrosion resistance and easy transportation. Further more,they are durable with long projected lifetime.

The structure of carport solar mount is pre engineered and pre designed to meet different mounting conditions.

Features of this carport solar:

Effectively use the space while generating electricity;
High strength and durable;
Provide economic and heat isolation for car parks;
Good quality and reasonable price;
Extremely low-maintenance.

Installing a reliable solar carport or shade structure is an important investment.We are a professional carport solar mounting system factory with more than 12 years experience. our experienced work team support all detail of this carport system,structure analysis, drawings…. and also will offer full service for your solar carport installation.

For more details, to request a consultation with a specialist, or to get a quote, please feel free to visit our company website:www.TopBestSolar.com