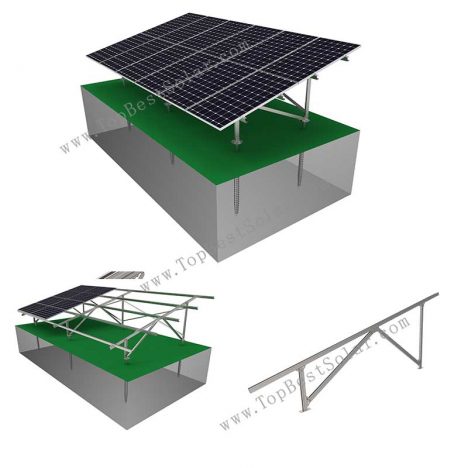 Carbon steel Ground rack solar panel mount
Model: HDG-Rack
Installation Site: Open field
Material: HDG Steel
Tilt Angle: 0° to 60°
PV Module: Framed, Frameless
PV Orientation: Portrait, Landscape
Wind Load: 60 m/s
Snow Load: 1.4 KN/M2
Contact by Email
Product Description:
The carbon steel Ground rack for solar panel is designed using HDG steel structure, it has excellent anti-corrosive properties. Its professionally designed structure and structural optimization help customers realize significant cost saving,the folding pre-assembled design guarantees efficiency for onsite installation,while the multiple column design improves system stability,ensuring that the system have a long life service even when operating in hostile environments.
Multiple foundation options for carbon steel Ground rack solar panel mount, commonly is concrete or ground screw. Galvanized steel mounting structure can fix the solar panel with fixed angle,suitable for flat and sloping terrain conditions.
The ground racks carbon steel structure use high quality carbon steel material with HDG surface treatment, strong anti-corrosion, suitable for large ground projects. We accept customized solution for for different specific project design.
Features of this Carbon steel Ground rack for solar panel:
Highly pre-assembled components,ensuring easy installation and lower labor cost
Height and Angle can be adjusted in a certain range
The arrangement of the system can be adjusted according to the actual site situation, which can realize the vertical, east-west, south-west and south-north adjustment to maximize photovoltaic power generation and have good compatibility of components
HDG steel material, high strength and cost effective.
Carbon steel Ground rack for solar panel manufacture factory, provide good quality solar mounting structure, competitive price,top best service team. Welcome inquiry from us any time,feel free visit our website:www.TopBestSolar.com.
Brief Descriptions:
Solar Mounting System –Ground racking structure
Item type:
Solar ground mounts
Type:
 Carbon steel Ground rack
Installation Site:
Open filed
Profile Material:
Carbon Steel
Fasten Parts
Stainless Steel / Aluminum T Sliding Nut
Color:
Nature
PV Modules:
Framed,Frameless
Wind Load:
60m/s
Snow Load:
1.4KN/M2
Modules Orientation:
Landscape/Portrait
Standards:
AS/NZS 1170
DIN 1055
GB50009-2012
IBC2009
TUV
JIS C 8955: 2011
International   Building Code IBC 2009
California   Building Code CBC 2010
Warranty
10 years
Designed Lifespan
25 years
Packing Details:
Inner:
Bubble bag + inner box + Carton
Outer:
Wooden Box, Steel Pallet, MDF, etc
Product Description:

The carbon steel Ground rack for solar panel is designed using HDG steel structure, it has excellent anti-corrosive properties. Its professionally designed structure and structural optimization help customers realize significant cost saving,the folding pre-assembled design guarantees efficiency for onsite installation,while the multiple column design improves system stability,ensuring that the system have a long life service even when operating in hostile environments.

Multiple foundation options for carbon steel Ground rack solar panel mount, commonly is concrete or ground screw. Galvanized steel mounting structure can fix the solar panel with fixed angle,suitable for flat and sloping terrain conditions.

The ground racks carbon steel structure use high quality carbon steel material with HDG surface treatment, strong anti-corrosion, suitable for large ground projects. We accept customized solution for for different specific project design.

Features of this Carbon steel Ground rack for solar panel:

Highly pre-assembled components,ensuring easy installation and lower labor cost
Height and Angle can be adjusted in a certain range
The arrangement of the system can be adjusted according to the actual site situation, which can realize the vertical, east-west, south-west and south-north adjustment to maximize photovoltaic power generation and have good compatibility of components
HDG steel material, high strength and cost effective.

Carbon steel Ground rack for solar panel manufacture factory, provide good quality solar mounting structure, competitive price,top best service team. Welcome inquiry from us any time,feel free visit our website:www.TopBestSolar.com.

Brief Descriptions:
Solar Mounting System –Ground racking structure
Item type:
Solar ground mounts
Type:
 Carbon steel Ground rack
Installation Site:
Open filed
Profile Material:
Carbon Steel
Fasten Parts
Stainless Steel / Aluminum T Sliding Nut
Color:
Nature
PV Modules:
Framed,Frameless
Wind Load:
60m/s
Snow Load:
1.4KN/M2
Modules Orientation:
Landscape/Portrait
Standards:
AS/NZS 1170
DIN 1055
GB50009-2012
IBC2009
TUV
JIS C 8955: 2011
International   Building Code IBC 2009
California   Building Code CBC 2010
Warranty
10 years
Designed Lifespan
25 years
Packing Details:
Inner:
Bubble bag + inner box + Carton
Outer:
Wooden Box, Steel Pallet, MDF, etc