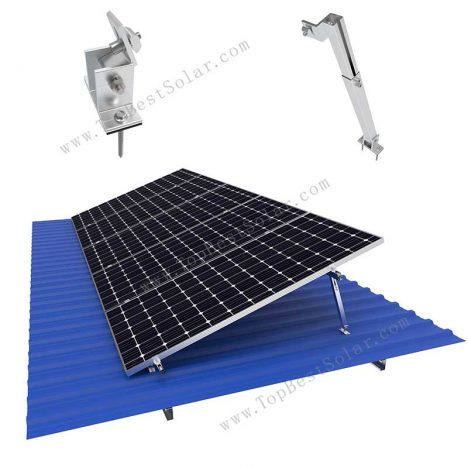 adjustable solar metal roof mounting 
Model: SPC-AD15-FR1-S
Installation Site: Flat or Metal Roofing
Material: SUS304, 6005-T5 Alum
Tilt Angle: 0° to 45°
PV Module: Framed, Frameless
PV Orientation: Portrait, Landscape
Wind Load: 60 m/s
Snow Load: 1.4 KN/M2
Contact by Email
Product Description:
Adjustable solar metal roof mounts can easily fits metal or flat roof applications. It provides a sturdy and strong support for solar roof mounting.
Flexible adjustments of the height and tilt angle make the solar mounting system get the best efficiency on different seasons, allows project-specific adjustments and maximizes the solar power output optimization.
The Adjustable solar metal roof mounting is wildly used for solar ground and roof mounting system duo to its own simple structure and easily assembled with competitive price.
This adjustable solar panel metal roof mount can be easily tilted to a certain angle with the adjustable tilt angles from 10~60 degrees.Three adjustable tilt angles solutions: 10~15°,15~30°,30~60°.
This module SPC-AD15-FR1-S adjustable solar metal roof mounts is designed for adjustable tilt angles from 10~15 degrees. It is suitable for portrait solar panes arrays.
Components list:
Adjustable front leg and rear leg;
Alu rail;
Mid/end clamp;
Rail splice
Features of this adjustable solar metal roof mounts :
Make maximum power output with the adjustable brackets;
Light weigh Aluminum Alloy material;
High corrosion resistance and anti-rust guarantee long lifespan;
Flexible rooftop mounting
Could be applied to ground and roof mounting.
Highly pre-assembled tilt legs,easy to fast to install, save your labor cost and time.
As one of the best manufacturer of solar parts and components factory, we own various roof mounting brackets for different roof types. Wholesale price and best service for you. Please do not hesitate to go through our company website:TopBestSolar.com
Brief Descriptions:
Solar Roof Mounting Systems –Clip lock solar roof mounts
Item type:
Solar Panel Roof Mounting
Type:
SPC-AD15-FR1-S
Installation Site:
Metal  Rooftop
Profile Material:
Aluminum Alloy
Fasten Parts
Stainless Steel,Aluminum
PV Modules:
Frameless or Framed
Wind Load:
60m/s
Snow Load:
1.4KN/M2
Modules Orientation:
Landscape/Portrait
Standards:
AS/NZS 1170
DIN 1055
GB50009-2012
IBC2009
TUV
JIS C 8955: 2011
International   Building Code IBC 2009
California   Building Code CBC 2010
Warranty
10 years
Designed Lifespan
25 years
Packing Details:
Inner:
Bubble bag + inner box + Carton
Outer:
Wooden Box, Steel Pallet, MDF, etc
Product Description:

Adjustable solar metal roof mounts can easily fits metal or flat roof applications. It provides a sturdy and strong support for solar roof mounting.

Flexible adjustments of the height and tilt angle make the solar mounting system get the best efficiency on different seasons, allows project-specific adjustments and maximizes the solar power output optimization.

The Adjustable solar metal roof mounting is wildly used for solar ground and roof mounting system duo to its own simple structure and easily assembled with competitive price.

This adjustable solar panel metal roof mount can be easily tilted to a certain angle with the adjustable tilt angles from 10~60 degrees.Three adjustable tilt angles solutions: 10~15°,15~30°,30~60°.

This module SPC-AD15-FR1-S adjustable solar metal roof mounts is designed for adjustable tilt angles from 10~15 degrees. It is suitable for portrait solar panes arrays.

Components list:

Adjustable front leg and rear leg;
Alu rail;
Mid/end clamp;
Rail splice

Features of this adjustable solar metal roof mounts :

Make maximum power output with the adjustable brackets;
Light weigh Aluminum Alloy material;
High corrosion resistance and anti-rust guarantee long lifespan;
Flexible rooftop mounting
Could be applied to ground and roof mounting.
Highly pre-assembled tilt legs,easy to fast to install, save your labor cost and time.

As one of the best manufacturer of solar parts and components factory, we own various roof mounting brackets for different roof types. Wholesale price and best service for you. Please do not hesitate to go through our company website:TopBestSolar.com

Brief Descriptions:
Solar Roof Mounting Systems –Clip lock solar roof mounts
Item type:
Solar Panel Roof Mounting
Type:
SPC-AD15-FR1-S
Installation Site:
Metal  Rooftop
Profile Material:
Aluminum Alloy
Fasten Parts
Stainless Steel,Aluminum
PV Modules:
Frameless or Framed
Wind Load:
60m/s
Snow Load:
1.4KN/M2
Modules Orientation:
Landscape/Portrait
Standards:
AS/NZS 1170
DIN 1055
GB50009-2012
IBC2009
TUV
JIS C 8955: 2011
International   Building Code IBC 2009
California   Building Code CBC 2010
Warranty
10 years
Designed Lifespan
25 years
Packing Details:
Inner:
Bubble bag + inner box + Carton
Outer:
Wooden Box, Steel Pallet, MDF, etc