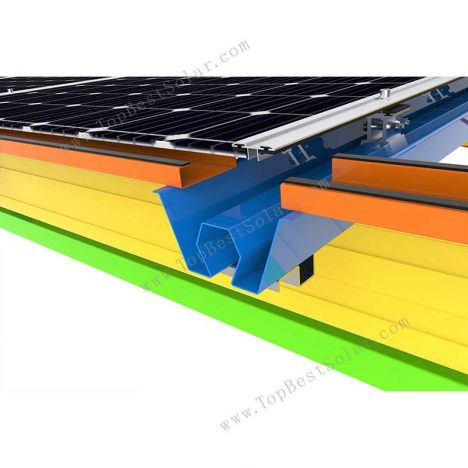 Waterproof solar carport for bifacial panel
Installation Site: Solar Cartport Mount
Material: SUS304, 6005-T5 Alum
Tilt Angle: 0° to 45°
PV Module:Frameless
PV Orientation: Portrait, Landscape
Wind Load: 60 m/s
Snow Load: 1.4 KN/M2
Contact by Email
Product Description:
While installation of solar carport become more and more popular,most people more prefer to use frameless panels for more elegant appearance. Waterproof carport for frameless panel
provides electric vehicle charging stations for an extra bonus to cars sheltering underneath. It is widely used for both commercial and residential areas.
Our waterproof solar carport for bifacial panel offers a fully waterproof solution for the carport system.The W shape water guide beam provide a good water drain system.We use high quality AL6005 or ZAM material, so that the waterproof carport has good corrosion resistance performance and can applied to high wind speed and snow load.Moreover,they are high strength and reusable material provide a secure carport structure,available to hold all size solar panels.
The supporting brackets of the waterproof carport for solar unframed pv module
can highly be pre-assembled, fast to install at site and save labor time.Our bifacial mid and end clamps can protect and fix the bifacial panels well and attached the W share water guide beam directly.
Features of this waterproof carport for frameless panel:
Fully waterproof;
Beautiful appearance ;
Provide economic and heat isolation for car parks;
Good quality and reasonable price;
Extremely low-maintenance.
If you are interested in our Waterproof carport for frameless panel,please do not feel hesitate to contact us and share us mounting information of our solar carport system. Our professional engineer team will check out best drawing design solution for you.
For more details, please feel free to visit our company website: www.TopBestSolar.com.
Brief Descriptions:
Solar Mounting System –Waterproof carport for frameless panel
Item type:
Solar ground mounts for car park
Type:
 waterproof solar carport for bifacial panel
Installation Site:
Garage for home, car parking for commercial
Profile Material:
Aluminum Alloy
Fasten Parts
Stainless Steel / Aluminum T Sliding Nut
Color:
Anodized Silvery
PV Modules:
Frameless
Wind Load:
60m/s
Snow Load:
1.4KN/M2
Modules Orientation:
Landscape/Portrait
Standards:
AS/NZS 1170
DIN 1055
GB50009-2012
IBC2009
TUV
JIS C 8955: 2011
International   Building Code IBC 2009
California   Building Code CBC 2010
Warranty
10 years
Designed Lifespan
25 years
Packing Details:
Inner:
Bubble bag + inner box + Carton
Outer:
Wooden Box, Steel Pallet, MDF, etc
Product Description:

While installation of solar carport become more and more popular,most people more prefer to use frameless panels for more elegant appearance. Waterproof carport for frameless panel

provides electric vehicle charging stations for an extra bonus to cars sheltering underneath. It is widely used for both commercial and residential areas.

Our waterproof solar carport for bifacial panel offers a fully waterproof solution for the carport system.The W shape water guide beam provide a good water drain system.We use high quality AL6005 or ZAM material, so that the waterproof carport has good corrosion resistance performance and can applied to high wind speed and snow load.Moreover,they are high strength and reusable material provide a secure carport structure,available to hold all size solar panels.

The supporting brackets of the waterproof carport for solar unframed pv module

can highly be pre-assembled, fast to install at site and save labor time.Our bifacial mid and end clamps can protect and fix the bifacial panels well and attached the W share water guide beam directly.

Features of this waterproof carport for frameless panel:

Fully waterproof;
Beautiful appearance ;
Provide economic and heat isolation for car parks;
Good quality and reasonable price;
Extremely low-maintenance.

If you are interested in our Waterproof carport for frameless panel,please do not feel hesitate to contact us and share us mounting information of our solar carport system. Our professional engineer team will check out best drawing design solution for you.

For more details, please feel free to visit our company website: www.TopBestSolar.com.

Brief Descriptions:
Solar Mounting System –Waterproof carport for frameless panel
Item type:
Solar ground mounts for car park
Type:
 waterproof solar carport for bifacial panel
Installation Site:
Garage for home, car parking for commercial
Profile Material:
Aluminum Alloy
Fasten Parts
Stainless Steel / Aluminum T Sliding Nut
Color:
Anodized Silvery
PV Modules:
Frameless
Wind Load:
60m/s
Snow Load:
1.4KN/M2
Modules Orientation:
Landscape/Portrait
Standards:
AS/NZS 1170
DIN 1055
GB50009-2012
IBC2009
TUV
JIS C 8955: 2011
International   Building Code IBC 2009
California   Building Code CBC 2010
Warranty
10 years
Designed Lifespan
25 years
Packing Details:
Inner:
Bubble bag + inner box + Carton
Outer:
Wooden Box, Steel Pallet, MDF, etc