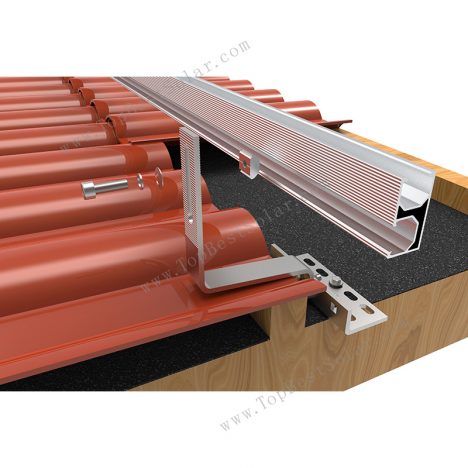 Tile roof solar mount, made of stainless steel
Model: SPC-RF-IK02-DR
Installation Site: Spanish Roofing
Material: SUS304, 6005-T5 Alum
Tilt Angle: 0° to 60°
PV Module: Framed, Frameless
PV Orientation: Portrait, Landscape
Wind Load: 60 m/s
Snow Load: 1.4 KN/M2
Contact by Email
Product Description:
Tile roof solar mount is the more general system, which has a widely application for PV roofing mounting system. Whether it is a large or small project, the system can meet your needs. Stainless steel components provide a high corrosion resistance and have the advantage of durable and long life span. In the solar industry, we have our own factories with high quality and reasonable prices to provide the best service. For the tile roof solar mounts, most components can be pre-assembled, quickly installed and strong compatibility, so they are value for money. The structure of the system is consisted of solar roof hook for SPC-IK-02, which allowed to be installed with side mounted to tighten the rail with sliding nut. The whole system for solar roofing mounted is more simple and easier to be installed with reducing the cost and save the time for installing.
The steps for installing tile roof solar mount racks are below:
Uncover the tiles and mark the position for the curved tile roof hooks on the main girder.
Install the hooks on the exact point and fasten the hooks with wooden screws.
Make the rails be connected with the rail splice and fasten the rails with the hooks.
Install the solar panels on the rails and fasten the panels with mid and end clamps.
Features of solar panel mounting system for tile roof:
Be installed for portrait or landscape;
With a simple and convenient way to install;
No need too many components;
Framed or frameless PV modules are available;
Highly cost effective;
A good corrosion resistance and durable.
If you're interested in our components or solar mounting systems, we'd love to provide and discuss with you about them.
Contact us and we will be in touch with you shortly.
More details for you. Contact us by our website:
Brief Descriptions:
Solar mounting system-tile roof solar mount
Item type:
Solar mounting system
Type:
SPC-RF-IK02-DR
Installation Site:
Solar mounting system for tile roof
Profile Material:
Stainless steel 304, Aluminum
Color:
Silvery or according to customer's requirements
PV Modules:
Framed or frameless
Module Orientation:
Portrait and Landscape
Standards:
AS/NZS 1170
DIN 1055
GB50009-2012
IBC2009
TUV
JIS C 8955: 2011
International   Building Code IBC 2009
California   Building Code CBC 2010
Warranty
10 years
Designed Lifespan
25 years
Packing Details:
Inner:
Bubble bag +inner box +Carton
Outer:
Wooden Box, Steel Pallet, MDF, etc
Product Description:

Tile roof solar mount is the more general system, which has a widely application for PV roofing mounting system. Whether it is a large or small project, the system can meet your needs. Stainless steel components provide a high corrosion resistance and have the advantage of durable and long life span. In the solar industry, we have our own factories with high quality and reasonable prices to provide the best service. For the tile roof solar mounts, most components can be pre-assembled, quickly installed and strong compatibility, so they are value for money. The structure of the system is consisted of solar roof hook for SPC-IK-02, which allowed to be installed with side mounted to tighten the rail with sliding nut. The whole system for solar roofing mounted is more simple and easier to be installed with reducing the cost and save the time for installing.

The steps for installing tile roof solar mount racks are below:

Uncover the tiles and mark the position for the curved tile roof hooks on the main girder.
Install the hooks on the exact point and fasten the hooks with wooden screws.
Make the rails be connected with the rail splice and fasten the rails with the hooks.
Install the solar panels on the rails and fasten the panels with mid and end clamps.

Features of solar panel mounting system for tile roof:

Be installed for portrait or landscape;
With a simple and convenient way to install;
No need too many components;
Framed or frameless PV modules are available;
Highly cost effective;
A good corrosion resistance and durable.

If you're interested in our components or solar mounting systems, we'd love to provide and discuss with you about them.

Contact us and we will be in touch with you shortly.

More details for you. Contact us by our website:

Brief Descriptions:
Solar mounting system-tile roof solar mount
Item type:
Solar mounting system
Type:
SPC-RF-IK02-DR
Installation Site:
Solar mounting system for tile roof
Profile Material:
Stainless steel 304, Aluminum
Color:
Silvery or according to customer's requirements
PV Modules:
Framed or frameless
Module Orientation:
Portrait and Landscape
Standards:
AS/NZS 1170
DIN 1055
GB50009-2012
IBC2009
TUV
JIS C 8955: 2011
International   Building Code IBC 2009
California   Building Code CBC 2010
Warranty
10 years
Designed Lifespan
25 years
Packing Details:
Inner:
Bubble bag +inner box +Carton
Outer:
Wooden Box, Steel Pallet, MDF, etc