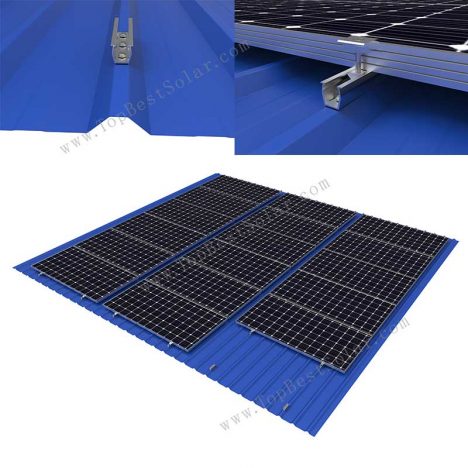 railless solar racking for roofing system
Model: SPC-RF-CK01-HUR
Installation Site: Solar Roofing mounted
Material: SUS304, 6005-T5 Alum
Tilt Angle:
PV Module: Framed, Frameless
PV Orientation: Portrait, Landscape
Wind Load: 60 m/s
Snow Load: 1.4 KN/M2
Contact by Email
Product Description:
Railless solar racking is an ideal solution for metal roof, which has widely application in commercial and industrial. This kind of solar system provides an easy and fast method to mount solar panels. The special part for the racking system is the usage of railless, which can solve the problem of connecting with rail splice and reduce the cost of rails. Railless solar racking is suitable for the majority of metal roofing, which makes it popular for the user. And it is used for the normal wind and snow load. It equips the PV modules for landscape and portrait, but landscape for more. Each PV modules are needed for four railless rails and the neighbouring PV modules can use the railless in common. It is better to matching with EPDM rubber gasket to improve the performance of waterproof for the railless solar racking.
The installation instructions are below:
Tighten the rail less on the crest of metal roofing with screw;
Placing the solar panels;
Fasten the PV panels with mid and end clamps.
Features of rail-less solar racking:
Anodized aluminum material to reduce the weight loading of the roof;
Good performance of waterproof due to the addition of the EPDM;
Be suitable for most of metal roofing;
Highly cost-effective;
Fast for installation with fewer components.
If you're interested in solar mounting system, we'd love to discuss with you about more and answer any questions you might have. As a professional manufacturer of PV mounting system, SPC is a great option for you.
Click here for more details and information:
www.SolarPartsComponents.com
Product Description:

Railless solar racking is an ideal solution for metal roof, which has widely application in commercial and industrial. This kind of solar system provides an easy and fast method to mount solar panels. The special part for the racking system is the usage of railless, which can solve the problem of connecting with rail splice and reduce the cost of rails. Railless solar racking is suitable for the majority of metal roofing, which makes it popular for the user. And it is used for the normal wind and snow load. It equips the PV modules for landscape and portrait, but landscape for more. Each PV modules are needed for four railless rails and the neighbouring PV modules can use the railless in common. It is better to matching with EPDM rubber gasket to improve the performance of waterproof for the railless solar racking.

The installation instructions are below:

Tighten the rail less on the crest of metal roofing with screw;
Placing the solar panels;
Fasten the PV panels with mid and end clamps.

Features of rail-less solar racking:

Anodized aluminum material to reduce the weight loading of the roof;
Good performance of waterproof due to the addition of the EPDM;
Be suitable for most of metal roofing;
Highly cost-effective;
Fast for installation with fewer components.

If you're interested in solar mounting system, we'd love to discuss with you about more and answer any questions you might have. As a professional manufacturer of PV mounting system, SPC is a great option for you.

Click here for more details and information:

www.SolarPartsComponents.com